Iniciativas FUNAFU
Version Español
Enhancement of the Jesuit-Guaraní Missions
La Cruz, Corrientes, Argentina.
The Foundation intends to develop the endogenous structural capacities of La Cruz premises, through co-management of cultural-based processes of economic and social development. The goal is to integrate these communities around the use of their natural and cultural resources.
The Provincial Touristic-Strategic Development Plan is based on sustainable development and considers it a methodological basis to achieve progress without damaging and depleting resources. Both the provincial government, through the Jesuit/Guaraní/Correntino Heritage Program, and all four municipalities, through their areas of Culture and Tourism, have incorporated in their agenda culture as a central element of promotion of local development based on the recovery of historical legacy.
In the case of archeological assets, the urgency for intervention was raised to stop destruction vs. unplanned urban growth and harmful practices.
General Objective
To contribute to the sustainable social and economic development of the communities of La Cruz, Yapeyú, Santo Tome and San Carlos through the generation of cultural, religious and pilgrimage tourism, generating infrastructures and abilities to involve themselves in the touristic economies as from their products and related services with the Jesuit-Guaraní Missions.

Specific Objectives
1. To enhance the cultural and touristic values of the goods and historical places through an interventionthat highlights and prioritizes the attractions, archaeological sites and access roads to the sites in order to facilitate tourists, travel, information and interpretation.
2. To promote the participation of the municipal communities participating in the project through awareness and capacitation in local cultural heritage conservation
3. To elaborate, jointly with the Sub-secretariat of Tourism of the Province, the guidelines for a touristic development strategy that involves respect for and improvement of archeological and historical heritage as well as cultural particularities of each one of the municipalities, implementing for it the designs and montage of an Interpretive Center of the Jesuit-Guaraní Culture and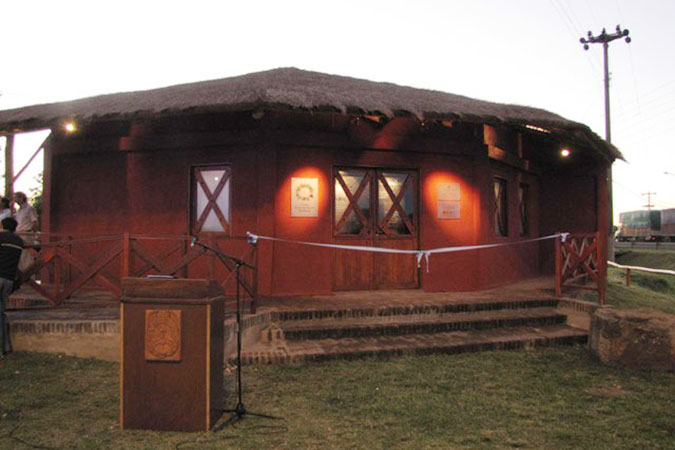 Sumampa, Santiago del Estero
---
La Cruz, Corrientes, Argentina.
---
San Pedro, Misiones, Argentina.
---
---
Esteros del Iberá
---
Argentina
---
Valles Calchaquies. Salta.
---